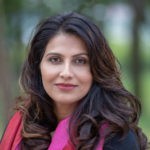 "Contemporary Design contains influences from whatever design styles are popular at the moment. Its look is always evolving, but what is consistent is an appreciation of clean lines and subtle sophistication. I love to play with colors and textures — incorporating them with aspects of Contemporary Design."
— Sheeja Nair
Founder, Raashi Design
Do you have a vision in your head of your dream home?
Does it look like a showplace, but feel like a home? Are you always looking at interior design magazines or TV shows for ideas — but the thought of doing it all yourself seems scary and overwhelming?
Does this sound familiar? If so, you could be describing many of my clients.
They want beautiful, welcoming interiors in a range of contemporary, transitional, or modern design styles. Comfort and function are extremely important to them. For clients with families, they prefer kid-friendly touches that don't ruin the carefully curated ambiance. There's a desire to see color used in exciting, yet tasteful ways. And for some clients, it's important that their interiors are designed in adherence to Feng-shui or Vastu Shastra principles.
Do you want your home to have these characteristics, too?
If your answer is YES, then WELCOME! I'm glad you stopped by.
My Story…
I'm Sheeja Nair, owner and interior designer at Raashi Design. From the time I was a little girl, I've been interested in design. My first interior design project was converting an unused storage closet into a glamorous fashion retreat for my sister and I. Challenges were fun for me, and I loved developing unique arrangements to maximize the functionality and utilization of a given space.
My problem-solving skills grew as I explored careers in physics and engineering. But I was still passionate about interior design. Only now instead of closets, I was designing the interiors of homes — some of them custom homes — in my free time! The call to design full-time became louder and louder, and a little over a decade ago, interior design became my sole profession.
It's been a rewarding journey that includes designing internationally. Working in different parts of the world has influenced my design style and perspective in a truly global way. I have a different approach to using colors, textures, space organization and lighting — and I'm also very open to using out-of-the-box thinking when it comes to solving design problems.
This variety of experience makes me uniquely qualified to creatively solve many challenging design issues — from creating interiors that a couple with two vastly different design preferences will love, to designing custom cabinetry and furniture!
How can I help you make your dream home a reality?
Raashi Design's specialty is turn-key (concept to completion) residential interior design/decorating projects for the entire home or specific rooms. Our services include design consultations, design plans, and other service offerings.
Our interiors are thoughtfully conceived with an emphasis on a range of design styles, practicality, and functional comfort — plus the award-winning customer service that our clients value and expect.
We serve the East Bay including San Ramon, Danville, Walnut Creek, Blackhawk, Alamo, Pleasanton, Dublin, and Livermore — as well as the Silicon Valley and the Peninsula.
We would love to create interiors that will delight and inspire you! Contact us for a 15 minute complimentary phone consultation today.
Sheeja
Sheeja Nair
Owner and Interior Designer, Raashi Design, LLC